Internet Auction ends Friday, Nov 6th 3pm
Inspection Thursday Nov 5th 10am to 3pm
Inspection & Pickup - 455 4th St S, Lake Wales, FL
We are also cataloging the Benedict Smith art gallery, frame shop and jewelry that will be sold in separate auctions coming soon. 
Equipment for designing and making gold rings, necklaces, earrings, bracelets, plus jewelry displays and showcases.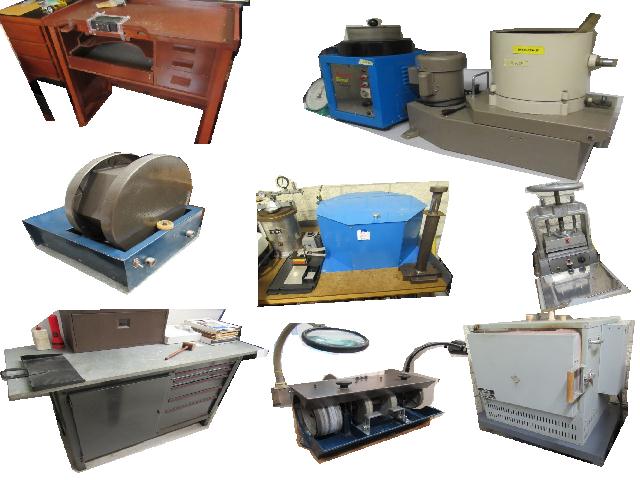 Benedict and Smith Designs was the producer of high quality custom jewelry.  Unfortunately, due to health reasons, the owners have decided to retire and liquidate all of the equipment. 
glass show cases and jewelry display cabinets
jewelers work benches
ingot making tools for making gold wire and flats
gold wire drawing machine
gem stone tumbler
stone saw
lapidary sander, grinder
drafting tables
jewelry photo cabinets
kt stamps for inside ring
panagraph, & free style engraving machine
forming stakes for necklaces, bracelets, straight – 8 different sizes
heavy wood work table  on casters
Tattle Tale solution driven tumble polisher for inside of rings
State of the art POS system
stainless steel needle tumbler for polishing inside of rings
investment powder scale
Kitchen Aid mixer
Memco Okay high frequency electric  casting  machine for melting silver, gold, platinum
kiln with controller
stainless bun warmer
lost wax casting centrifuge
Memco computerized melt down furnace
shot tower for converting gold and silver to pellets
vacuum dome for pulling air out of investment powder
steel pedestal work table with vise
vulcanizing press up to 400 lb psi
compressed air powered screw cutter
pneumatic jack hammer
broken arm centrifuge casting machine
pressurized wax injector
Memco wax injector
casting flasks for investment powder for vacuum casting machine
jewelers hammers, forceps, files, tool cabinets
ultra sonic cleaner
Tradesman Model D electro plater for plating rodium over gold
buffing machine with sweep collector
disc and belt sanders
low temp baking oven for molds up to 500 degrees
grinding and sanding drums
small glass bead machine
watchmakers work bench
15% buyers premium  FL Lic ab3907/au905